About Miss Emily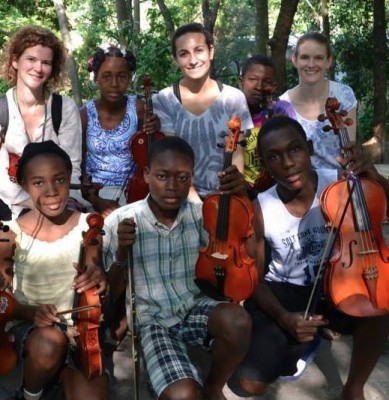 Emily Martins has an exciting take on music eduation. 


       Her diverse training and teaching experiences have culminated into her teaching style and methodology developed for the Mini Musicians Violin and Viola Studio. Combining her training in styles from Suzuki to Dalcroze Eurythmics, she has created music classes that develop a deep love and appreciation for music.  She helps her students see beyond the notes so that they can have a musical experience that they will love to share with others. Now that she is a mommy to a sweet baby girl, she sees the importance of early music education more than ever and is always coming up with exciting new ways to develop the minds of young children though music.  


       She has directed the orchestras at Houston Christian High School, Manhattan Academy for Arts and Language and was the Assitant Director for the New York All-City Youth Orchestra. She founded the general music program at Hampton Country Day Camp and volunteered to set up the music program at Zanmi Lasante in Cange, Haiti. Her award wining orchestras have performed abroad in Germany, Austria and Hungary and have been invited to perform at Carnegie Hall in New York City. Her studio members repeatedly enjoy performing in the Texas Region orchestras. 


"
"My daughter really enjoys her lessons with Emily. Emily is patient, encouraging, and fun. We look forward to many more lessons with her!" - Chris M. 
"She is a good teacher, very patient, knowledge, experienced." - Chan C. 
"Emily Martins is a great teacher. She is warm, funny, and most of all patient, which is a skill you definitely need as music teacher. She makes sure that I have fully mastered a piece before moving to the next which is a big thing for me. I definitely would recommend that you have Emily as your instructor if you want to learn violin or viola. You will definitely advance in no time with her." - Angila G. 
Bachelor of Music Education, SUNY Fredonia
Master of Music Performance, University of Tennessee (Knoxville)
Suzuki Certificate, Ithaca College Suzuki Institute 
Every Child Can!, Violin and Viola book 1 & 2